AutoSmart international – the largest supplier of vehicle cleaning products to the trade.
Established in the UK in 1979, AutoSmart is the trade's favorite supplier of vehicle cleaning products in many territories around the world.
AutoSmart is growing rapidly overseas and has customers in over 20 countries including France, Germany, Holland, Belgium and Luxembourg.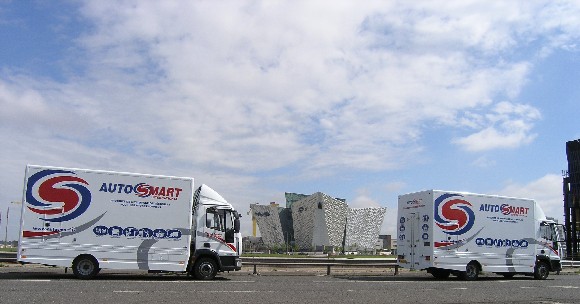 Pictured above; numbers 2 and 3 of a total five AutoSmart Showrooms wait in line to start the last leg of their journey back to France. The Titanic Belfast visitor centre and Harland & Wolff cranes provide a super backdrop  as a last view of Northern Ireland for the two Ivecos.

It was amusing to see the puzzled faces of onlookers as the French AutoSmart convoy passed by on the journey from Drumack Coachworks to the harbour.
Drumack Coachworks – Vehicle Bodybuilders