THE R10 TUKAWAY TAIL LIFT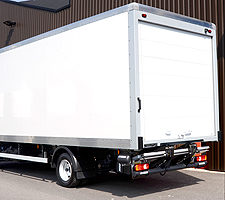 This Ratcliff/MBB joint venture combines the expertise of both companies in the development of this 1000kg Tukaway tail lift, suitable for dry freight and refrigerated vehicles up to 12tonne gvw. The R10 has a 1200mm deep x 2000 wide, double-folding aluminium platform. Standard features include:- KTL coated chassis, twin cylinders for greater stability, platform roll stops, an illuminated, 2-handed fixed exterior control box and wanderlead controls. Flashing lights and platform-mounted foot controls are available as options.
FLEXI-LIFT RANGE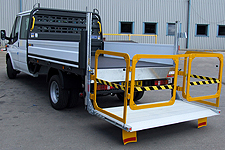 The RQ527 features a galvanised steel frame and lightweight, 975mm deep aluminium platform. Safety features available include platform roll stops with a fixed leading edge and all round safety gates for total operator safety. Ratcliff offer various frames and platforms within its 500kg capacity flexi- lift range creating a lift for virtually all 3.5tonne applications, including flatbeds, dropside trucks and tippers as well as box-bodied vehicles.
IVA COMPLIANT UNDERFLOOR CASSETTE LIFT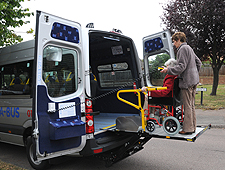 The new IVA compliant RUL35AWL with lifting capacity of 350kg – the latest in Ratcliff Palfingers portfolio of passenger lifts. The lift shown features an 825mm wide x 1350mm deep aluminium folding platform, side guards, rear automatic ramp stop and handrails. This lift conforms to the latest IVA minibus requirements offering a lightweight aluminium 230mm step for vehicles with a floor height exceeding 700mm and/or if the taillift protrudes from the rear of the vehicle. Suitable for passenger and commercial applications.
Over the years Drumack Coachworks have worked closely with Ratcliff providing customers with 24/365 breakdown cover, genuine Ratcliff spares and hassle free warranty.
For further information and availability of the full range of Ratcliff Palfinger lifts contact Cyril at Drumack – sales@drumack.com
Drumack Coachworks – County Antrim – Northern Ireland