Two Mercedes Sprinters being prepared for entering service in the tail lift service and weight testing fleet.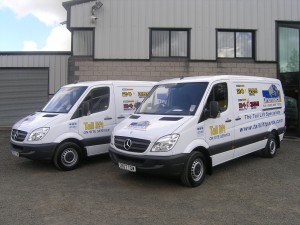 A typical Drumack service van interior specification includes; taillift parts specific bins, extendible workbench with vice, integrated Tevo modules for tool and tail lift parts storage.
To enable the highest percentage of tail lift repairs to be carried out on-site Drumack Service vans are also kitted with;
12V and 24V in-built electrical systems
hose making facilities
welding and cutting equipment
240V inverter
   Drumack Coachworks – On-site tail lift service Loler and weight testing
As part of a continued effort to increase capacity, Drumack have again added to the tail lift and shutter service fleet. Drumack now have 9 highly trained taillift engineers and operate 6 fully stocked Mercedes Sprinter service vans.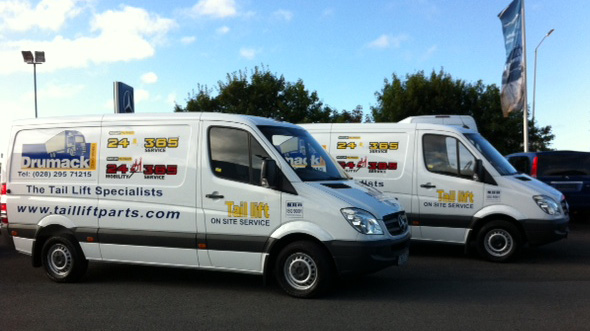 The two Sprinter vans were supplied by Mercedes-Benz Mallusk.
For more information on Mercedes-Benz vans contact Johnny Andrews at Mercedes
Factory fitted tow-bars were one of the options selected as this gives a Gross train weight of 7 tonnes. (A useful feature as Drumack weight test tail lifts on customers sites)
 Drumack Coachworks – Belfast and Ballymena – Northern Ireland