This majestic bracket fungi emerging from a damaged panel on a sliding door vehicle.
The outer layer to most panels in vehicle construction is the protective layer. Once this GRP film is damaged, water etc. is permitted to enter the panel core and nature will do the rest.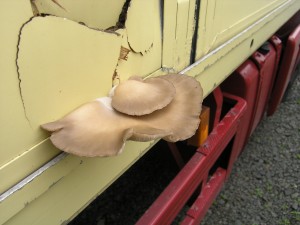 If vehicle damage is repaired at the earliest convenience, much future expense may be spared. However, if left unchecked  panel integrity will be compromised.
Drumack frequently undertake repairs to commercial vehicles. Special alloy sections can be sourced for repairs to most UK mainland manufactured vehicles.
A variety of techniques are available for panel repairs dependent on the severity of the damage. Replacement panels are also stocked and a full painting service offered.
Call in to the Rasharkin depot for a damage assessment and quote –  10 Drumack Road, Rasharkin, Ballymena, CoAntrim, BT44 8RF
 Drumack Coachworks – commercial vehicle repairs – Nothern Ireland