Mandatory conspicuity marking legislation detailed in the UK Road Vehicles Lighting Regulations apples to the following classes.
Goods vehicles with a gross vehicle weight exceeding 7,500kg first used on or after 10 July 2011
Trailers with a gross vehicle weight exceeding 3,500kg manufactured on or after 10 July 2011
Text courtesy of FTA compliance guide
Paul Garroways new Volvo sporting the Autosmart livery and the ECE104 compliant conspicuity tape.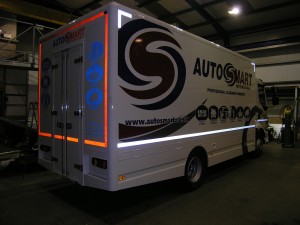 Further details can be obtained from the FTA compliance guide
 Drumack Coachworks – Commercial vehicle body builder – Northern Ireland
Disk shred's new body built on a new Man TGM15.250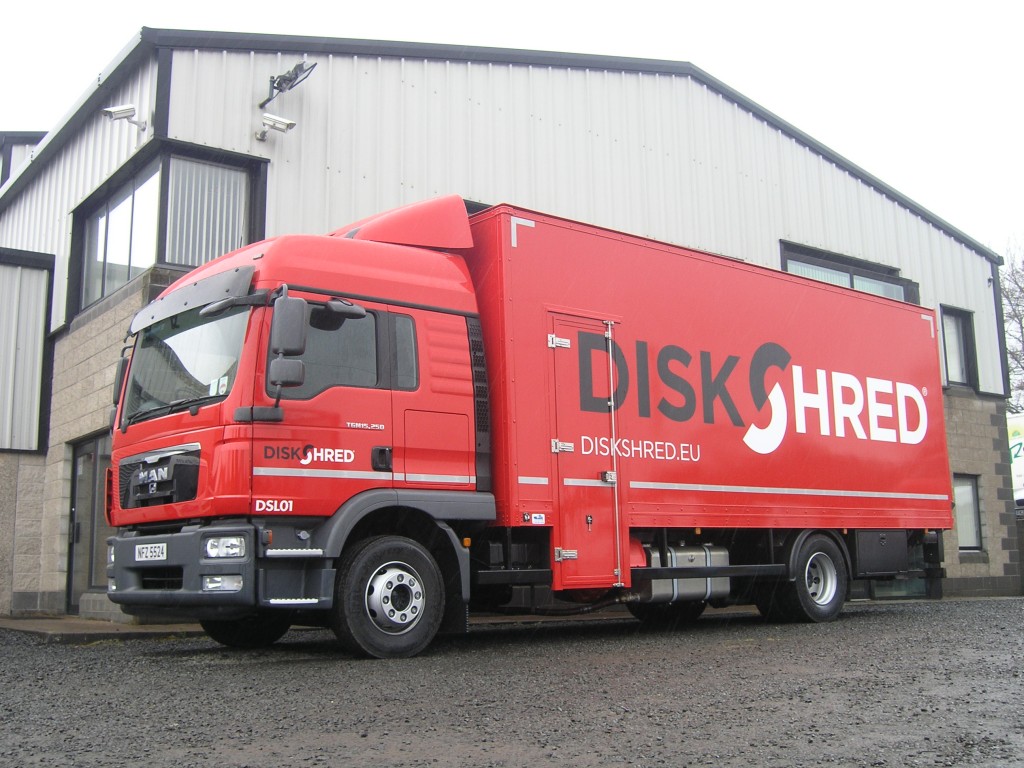 For more information and pictures click on Drumack body-building
Tail lift – MBB Palfinger 1500KL cantilever lift 1.5 tonne
Purpose built body with fully insulated roof
Strengthened cross-members to support shredder
Conspicuity  markings – ECE104
Customised work area including tool storage
Disk Shred operate a data destruction service whereby they come on-site and shred hard drives, compact discs, pen drives and other storage devices.
"The DiskShred fleet has evolved to match the changing requirements from our customers. Our latest truck provides shredding throughputs three times faster than the industry average for on-site hard drive destruction."
courtesy of DiskShred
 Drumack Coachworks – Commercial Vehicle Bodybuilder UK